Spoiler warning!
This article contains plot details about Campaign.
If you didn't finish Campaign yet,
you may wish to put this article aside for later.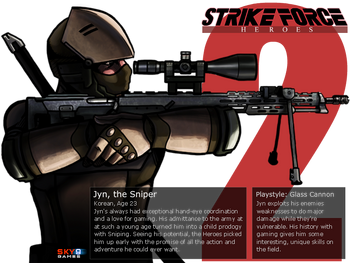 The sniper in game, Jyn, is very accurate with long range weapons, as well as being able to use hacks, due to his computer gamer background.
Click to view the Playable Sniper.
Biography
Edit
Age: 23
Homeland: Korea
Jyn uses his enemies' weaknesses to his advantage, doing major harm to them. His experience with gaming gives him some interesting abilities on the battlefield. Yet He has the lowest health of any class (Jyn is a sniper).
He has very good hand-eye coordination, which led to him becoming an avid video gamer. This led to his becoming a sniper prodigy, which meant he was recruited into the army at an early age. Seeing his potential in sniping, the heroes swiftly picked him up and promised him all the action and adventure he could ever ask for.
Jyn can also be funny sometimes, like when he wants to be called Snipa-X-Killa, or when he said that he didn't want GlobeX to break his Xbox, or when he thought he was hit and called out.
Equipment
Edit
Jyn uses the Syndication helmet, the High Endurance body, and the Jungle Camo. His main weapons are an Intervention for his primary with a laser sight, and a Katana for his secondary. His killstreak is Battle Scan.