Well, my favorite things about the Engineer class in SFH2.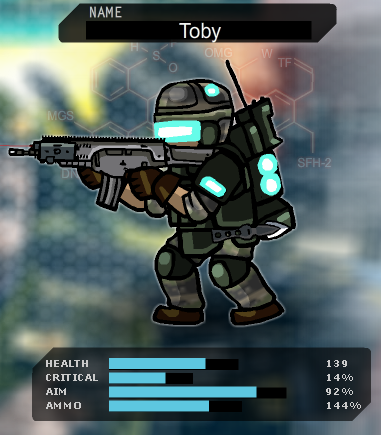 Few things first, my enigneer is level 27, I named him Toby, and I'm using an awesome suit/helmet/camo mixture. Futer soldier helmet, Heavy Padding suit, and Jungle camo. Cool, I know.
As you can see from the picture, I have the ARX-160, laser sight and throwing knife
What you may not know is that the ARX-160 is a level 10! But my soldier is level 27, you say. Exactly. I have gotten 4-6 perfect weapons through the slot machine, but four of those were worse in all stats, and the others were slightly better in one stat. Not liking that too much, but eh, I got a not-bad gun, regardless of its level.
My throwing knife is level 23, and really great, but normally I equip the katana for my Engie, which is pretty odd for me because I've never been too much into melee weapons.
I'm using the Flawless Superalloy Vest for armor, it is level 26 and has 46 armor. I like the Superalloy because it boosts my health +30%, which bring me up to 180 in the game, and matched with the repair bots ability, I'm very well off. I have high, rapidly regenerating health, a strong weapon, and look awesome to top it off.
Side note, I use the Rocket Sentry killstreak, which, in my opinion, is a little weak, but strong enough to hide behind and have some extra support.
I'll be breaking down the classes as I have them, and I'll do this with the Mercenary tomorrow.
Until then,
Steel Bowmaster (talk)Steel